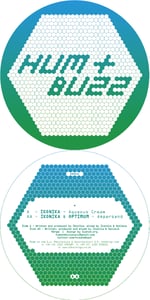 £

4.99
HBR001
12"
A. Ikonika - Aqueous Cream
AA. Ikonika & Optimum - Ampersand
Ikonika & Optimum are proud to introduce their highly anticipated new venture: Hum + Buzz Records. This double A side debut release is right at the centre of the current UK crossover, post-genre sound. First up, 'Aqueous Cream' explores a different sound to the one Ikonika delivered on her recent Hyperdub debut album. A dancefloor ready track with smooth sub bass, staccato piano chords, trademark emotive synth-leads, underpinned by tough kicks, sizzling hi-hats and ricochet snares. On side AA, 'Ampersand' marks Ikonika & Optimum's first official collaboration. Layers of synth melodies float above a steady four/four pulse and unpredictable claps. An angular, broken, melodic march at a house tempo.